xBOM for configurable products – explained by Variantum
xBOM has been lately raised as "hot topic" in PLM world.
---
xBOM has been lately raised as "hot topic" in PLM world. Variantum's VariSuite covers solutions to whole product lifecycle from offering process to delivery and service.
As a pioneer of a configurable product management, Variantum includes configurable products into its all VariSuite solutions:

For sales: sales configurator and quote tool for CPQ (Configure-Price-Quote)
For engineering: product data management system
For production: production configurator and delivery structure generator
For maintenance: product individual management known as installed base system
In this article, different information structures, known as xBOM, is described to different solution and process areas. Variantum's system supports all different BOM structures in one database.
VariSuite xBOM for configurable products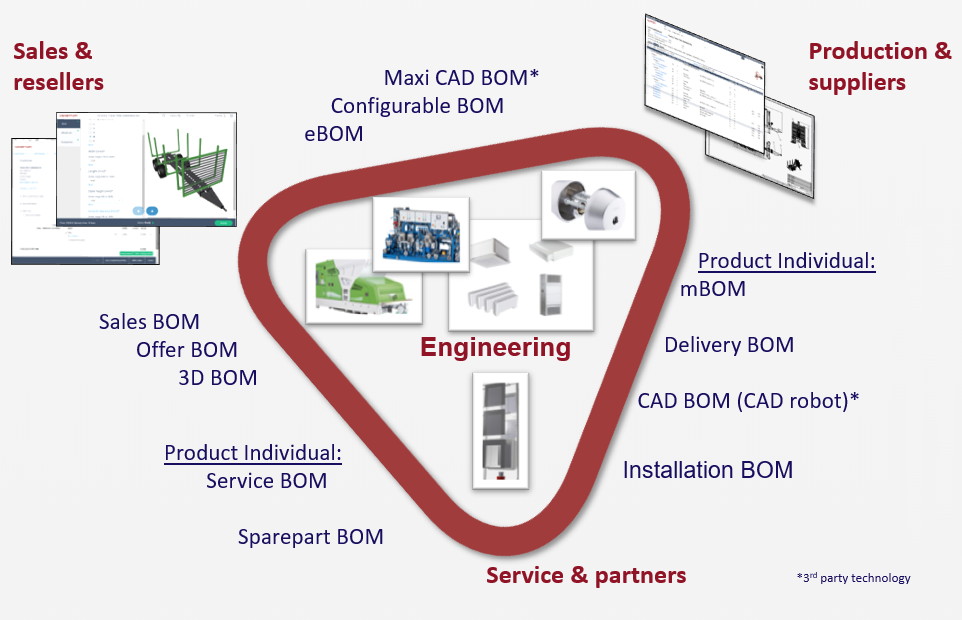 CPQ for complex pricing, quoting and visualization
Offer BOM: Offer consists rows for offered fixed or configurable products, product groups, discounts, additional installation and delivery services or any other miscellaneous items. Structure can be many levels, but typically 1-level.
Sales BOM: When configuring a sales product, product can have 1 to N levels based on options and selections to get a price. Flat level is the simplest which means feature-pricing, rule pricing requires few level and cost pricing requires product structure until fixed parts or modules, which is called structure-pricing on in Variantum slang cost-plus pricing. Configured product is then added to Offer BOM as one row or sub-row.
3D BOM: VariSuite's CPQ capability includes option for visualization and specially 3D requires own structure for light-weight visualization which follows product pricing. 3D adjusts also for dimensional changes, because Variantum's configurator technology allows ranges to be used as sellable option.
PDM for complex configurable products
Engineering BOM: Known as eBOM, is structure that defines design structure into PDM. This structure can come from design tools (ECAD or MCAD) but can be manually created as well. If company design rules target to make design as they are manufacture this can be call also as manufacturing BOM (mBOM), but in Variantum's world, this is only BOM's for fixed components or products.
Configuration BOM: known as maxi-BOM, product-family-BOM or Super-BOM, is BOM for configurable product. This BOM includes all designed options in different positions with parameters, rules, assignments, and refinements. This determines product's configurability and including modules, components, or items with all the configuration rules.
Maxi CAD BOM: CAD can include configurations BOM and addition to Configuration BOM, CAD can include rules for geometry or feature manipulation. Configurator BOM does not typically include geometry features, but CAD BOM can include rules e.g. for positioning screw into hole when dimensions change. Maxi CAD BOM can be driven manually or automatically after product configurator.
Automate order specific BOM and document configuration
Individual Manufacturing BOM: After production configuration, delivered product is generated to individual which has own structure. All changeable items will get own id and structure. Fixed items are included into structure, but these are only links or relationships to existing production revision. Some selections may be run during configuration, e.g. configured module weight might be selection rule for frame.
CAD BOM: Based on production configuration, CAD can select only needed assemblies and parts and run own geometry configuration which creates manufacturing documents and files and attach these to Individual mBOM to be used in production.
Delivery BOM: After production configuration, additional rules can be added for example to break individual structure to new structure. These might be needed, when product is manufactured in different plants, or logistic might require own structures for product delivery.
Installation BOM: Installation structure can be generated based on these rules as well, but it might require own configuration setup. Implementations tasks can be configured as own structure based on individual BOM.
Trace, maintain and analyze configuration data of installed base
Service BOM: Individual manufacturing BOM supports manufacturing, but service BOM re-structures that BOM as a service BOM. This means individual product structure to be built like service sees it. Service has typically own hierarchical categories for product levels or module/component visibility. Service BOM is updated, whenever product is been serviced with changes.
Spare-part BOM: Spare-part BOM is BOM where only spare-parts are listed. Typically, there are similar spare-parts around product structure, and it is important to see where it can be connected to. Spare-parts can be component level, but also whole module can be spare-part replaceable. Every spare-part installation, product individual structure must be updated to know products history. Spare-parts might be changed during product in use, this means that updating and changing spare-part information must be easy.
About Variantum
Variantum is a pioneer of configurable product data management since 2005. We help companies to be more customer centric by enabling wider and effective product offering in sales with CPQ (Configure-Price-Quote), shortening time-to-market in R&D, simplifying order entry to manufacturing and enabling product individual data management for service and after-sales. Our advisory team will guide you to be successful with your product and process development over the organizations.
"Variantum's comprehensive approach ensures that a company's configurable product definitions are understood, compatible, and available to sales, engineering, production, and throughout the maintenance lifecycle"
—Peter Bilello, President & Chief Executive Officer, CIMdata, Inc.
Do you need help with these topics?
Our team will help you with configurable products, do not hesitate to contact us!