Introduction to Data Management of Configurable Products
This article was originally published in Valokynä, a quarterly publication for Finnish CAE & PLM professionals.
---
This article was originally published in Valokynä, a quarterly publication for Finnish CAE & PLM professionals. You can now read the full story in English as well.
Effective management of mass-customizable, i.e. configurable products, provides manufacturing companies with a significant competitive advantage, unnoticed by many. The reasons vary. Despite long-term, thorough research on configuration technology, there are few success stories. Early projects have mainly focused on modeling the products through programming. These configuration models have been unclear, too large and difficult to maintain, eventually leading to dropping the entire project. This article depicts Variantum's solutions for data management of configurable products in business.
Data management of configurable products is often scattered in various different systems. The reasons vary. Product Data Management systems are initially designed for product development and manufacturing in serial production. Sales pursue to make offers through a Customer Relationship Management system by using a tailored sales configurator, instead of using information gathered from the design of the product. Production relies on the data from Enterprise Resource Planning, as well as the production configurator. Maintenance uses additional systems for managing spare parts and jobs, configuring offers that consist of services and supply-specific spare parts.
As a result, companies have several systems with overlapping information. They are unsynchronized, making configuration rules management of product models or product families complicated and inflexible. It seems that Master Data Management has gone unnoticed.
Clarity eases maintenance
Customized or locally developed configurators in sales and production are often expensive to maintain. Since the solutions are developed inside the company, only designated employees or collaborators can tweak them. This is in part due to the scarcity of commercial products on the market that enable versatile configuration.
The maintenance of configuration models is a challenging process for companies. The most qualified employees are typically busy with the development of new products, leaving the maintenance of old configuration models fall by the wayside. The biggest stumbling block for released configurator projects has been the maintainability of the models. The initially programmed product family structure corresponds to the product at first, but since it can only be updated by the original programmer, it starts falling behind as the product develops. As a result, the configurator quickly becomes unusable. In the worst-case scenario, this already happens as the configurator is being built. Hence, understanding the clarity and intelligibility of configuration models is crucial.
Common data model

Since the foundation of the company 15 years ago, Variantum has developed a PDM-based system, which companies can use to manage configurative product families transparently, between product development, sales, manufacturing and maintenance, by using a shared data model. The ability to manage configuration rules with plain language makes maintenance easier. This enhances the operation between product development, sales and production, making development processes easier, shortening production lead times, reducing errors and keeping the product models synchronized in sales and production.
Variantum's VariSuite includes all these capabilities:
CPQ for complex pricing, quoting and visualization
PDM for complex configurable products
Automate order-specific BOM and document configuration
Trace, maintain and analyse configuration data of installed base
Though the Variantum product family uses a shared database, the modules can be acquired separately. This way companies can enhance the processes and expand their system step-by-step, starting from sales or production, for example. Even if a company already uses a PDM-system, the items and product model maintenance can be integrated between the PDM and the product model management database. This process is called Configuration Model Management, bi-modal PDM.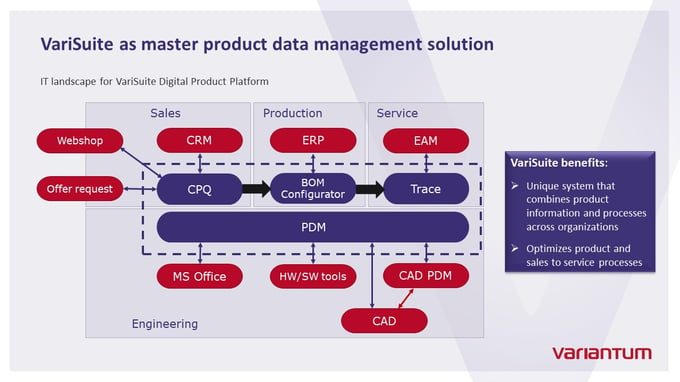 Product configuration
As the product development generates new items, the designer can choose and add product-specific parameters, dialing rules and limitations simultaneously with computer-aided design, for example. The product configuration rules are easy to learn without prior programming experience. This helps defining the technical abilities and preconditions for the product, as well as securing its productibility. Furthermore, getting rid of all the unnecessary building of project models following the design saves costs and production lead time. The product and configuration rule changes are quickly executable as well, resulting in a low cost-of-change. The same configuration parameter can be used for several products and product revisions by making use of product- and revision-specific limitations and rules. Hence, all the product and configuration changes are under control, regardless of the version or any process of change.


Sales Configurator
Sales require a fast output of offers, a visualization of the product and a process from order to production. In order to acquire these, the sales need to define frameworks for offering and pricing. These frameworks define how products and product families are desirably marketed in different market areas, how they are priced and what kind of offer and order documents are to be produced. In practice, this provides the sales with an ability to add rules to the product model, define product features or manage the layout of offer documents.

The sales configurator is typically integrated in the company's CRM. When the customer orders a product, the offer is labeled 'in order' and automatically exported to the ERP system by the production configurator. The user-friendly sales configurator then ensures that all the products can be technically produced before making it to the sales. After each action, the AI analyzes all the remaining options and the user interface displays the unsuitable ones in grey. The interface works in mobile devices and offline web browsers as well.
Production configurator
As the production configuration is carried out after the order, it generates a product unit with a serial number, a bill of materials and selected components. This product is then transferred to Material Requirements Planning system. If the product includes CAD standards, a CAD configurator is run to assign geometric customizations to production drawings and circuit board diagrams.

The result of product configuration functions as gross data for the maintenance unit database, which includes a list of components of every product at the moment of manufacture. It also contains the parameters included in order and production, the components that were configured with new, order-specific items, as well as the revision that first included these items in the bill of materials. The tracking of customizable, CAD-configured products is notably straightforward. Otherwise, the products would be difficult to find, let alone figure out the original purpose for a component and how the order differs from others. The configuration also informs maintenance and other post-sales services with structure, spare parts and modifications to be carried out during the life-cycle of a product. The product units can be integrated with potential Internet of Things applications as well.

This process from sales to delivery and maintenance is called a Digital Thread. It is a digital connection through the life-cycle of the product, keeping its master data intact. The resulting product unit is called a Digital Twin. As its name suggests, Digital Twin is a digital copy of a real-life device or system that includes the information of a delivered product at the time of delivery and during maintenance. Connected to an IoT-system, Digital Twin provides the system with information of the exact product unit.
Parameter management
In order to have functional configuration processes and parameters under control, a company has to manage their configuration parameters like any product data: how to combine technical, sales and service parameters and manage their development, alteration and correlation. This requires developed processes and permissions in order to prevent overlapping parameters. For this, a company needs organizers to determine the need for new parameters and define instructions for their operation. Otherwise there remains a high risk for multiple parameters with shared values, making them impossible for the company to manage.
Dynamic modeling
Variantum solutions come with a dynamic modeling system, making data model alterations easy to execute dynamically. Companies can maintain and modify their systems themselves. Product models and rules are based on information in a database, maintained by designers, product managers and sales product executives. It requires no programming skills.
Do you need help with these topics?
Our team will help you with configurable products, do not hesitate to contact us!