Offering Management in Marine Industry
The marine industry has particular characteristics compared to any other industry.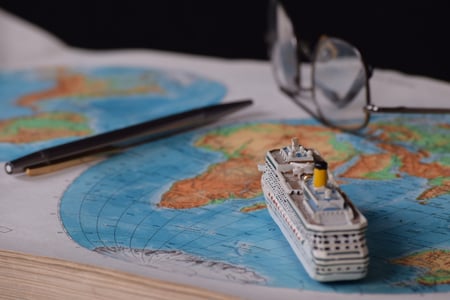 Case in point:
Marine Industry
The marine industry has particular characteristics compared to any other industry.
It is an example of project-based building industry. However, it must fulfill customer-required features (e.g., cargo, volume, weight), operational efficiency (e.g., cruising speed, consumption, pollution), and continuous planned and unplanned instant maintainability through the operational lifetime, sometimes during operation.

Marine industry cluster means companies involved in the design, building and delivering a vast variety of different pieces of equipment and components. Cluster in the marine industry is usually substantial, typically thousands of companies. The cluster must support various products from small projects to huge cargo- and cruise boats.
These projects have a very high demand of collaboration during design, building and maintenance in various changing components and configurable equipment where every individual equipment or component must be able to track, serviced or replaced.
Marine cluster companies need to manage their product portfolio for different products and customer requirements in sales, design, manufacturing and service. These companies also need a system where products can be mass-customized. Mass customization means: "producing goods and services to meet individual customer's needs with near mass production efficiency".
After delivery, it is essential to handle product maintenance in some way. The concept of "servitization" (from product-centric to an integrated product-service business) has been a rising trend in the world of business and the marine industry is more and more following the trend.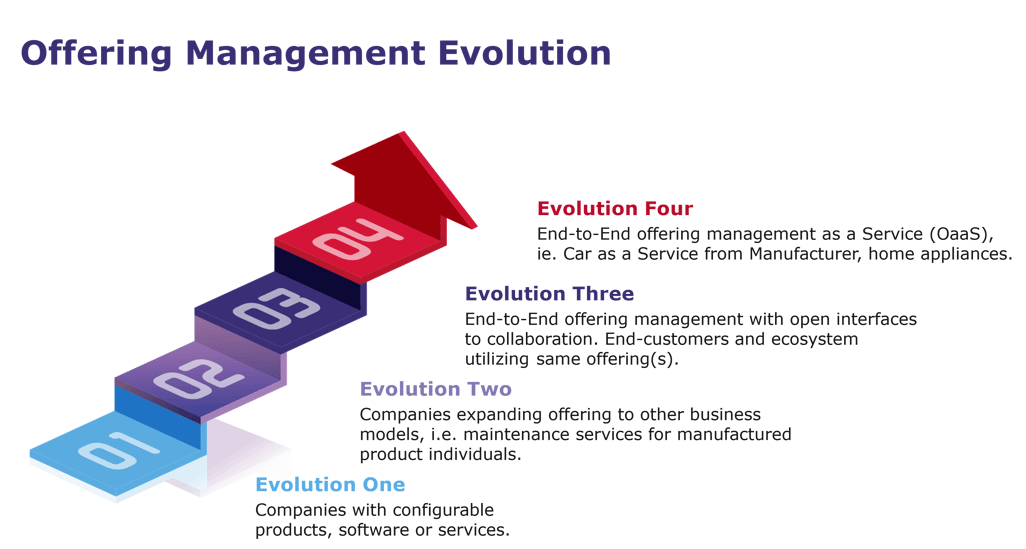 Picture. Offering management evolution steps to the End-to-End offering management as a service.
Adopting to servitization concept is not easy because it requires exact information of the customer's product as well as timely information of product performance. In a world of 24-timezones, the marine industry faces a challenge how to maintain the equipment's around the world. It seems like the only reasonable choice is to use 3rd party service partners. They get alarmed by the online systems connected to product individuals for finding the right spare parts from service partner depots. Also, information how to do service action when the vessel is in port and make repairs at sea to minimize downtime.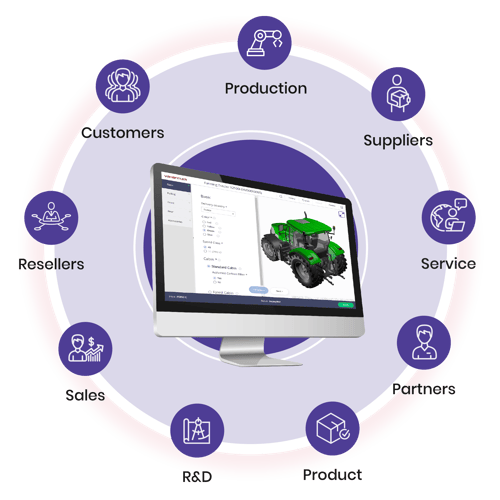 To be able to work as a mass customization company and to support servitization, product information needs to be shared with open interfaces for collaboration. To change the business model to Product-as-a-Service with configurable products, the company needs Offering Management.
As already mentioned, the marine industry needs to offer complex products fast and accurately and the product need to be produced near mass production efficiency. And, afterward, individual product service information manage effectively delivered individual product service information with an option to share and collaborate with service partners. The offering management is the perfect solution for this.
Offering Management also offers companies' the ability to change the business model to end-to-end Offering Management as a Service (OMaaS); hence the company owns all product information. From data management perspective, this changes product pricing in sales and maintenance. Single transactions change to continuous cashflows (recurring revenues) and for example spare parts are not purchased separately - they are included in a monthly service fee. Some products might also offer new features during operation to adjust some product behavior or parameters, e.g., power adjustment, with additional price tag.
Summary
Offering Management's end-to-end approach will lead to competitive differentiation, better and deeper relationships with customers, enhanced customer satisfaction and loyalty. It is not a trend in future business, it is already here. Are you ready?
Written by Teemu Kaattari, Head of Products, Variantum
Ready to reserve your seat?