CUSTOMER SUCCESS WITH STERA TECHNOLOGIES
Stera Technologies - Supply Chain Evolution
"With Variantum, we succeeded to change our order-to-manufacturing process from days to hours." - Jussi Ohlsson, CEO, Stera Technologies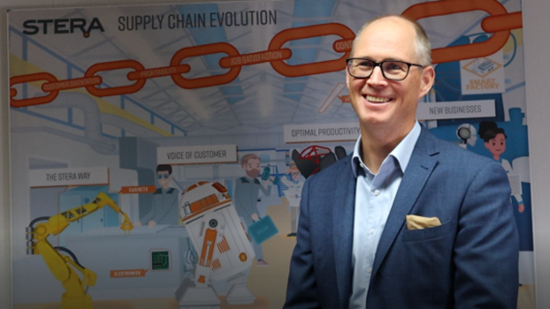 Jussi Ohlsson, CEO, Stera Technologies
"We started our journey together with Variantum in 2011, when we decided to automate our customer contract manufacturing order - and product manufacturing processes to shorten lead-time and to minimize human errors in order handling and in product structure creation to manufacturing.​
Our co-operation with Variantum has worked without problems and Variantum has fulfilled its promises. When configuration model has been created and tested, system has worked flawlessly and reliably integrated to our ERP system."​
About Stera Technologies
Stera Technologies is an international mechanics and electronics contract manufacturer. We employ more than 800 professionals in our six factories in Finland and Estonia.​
Trusted Partner
Stera is a partner who offers customers service throughout their supply chain from design and procurement all the way to mass production and single, tested end products, and who utilizes the latest technologies and the means of digitalization.
Quote
"We operate in tight co-operation with our customers developing products and operations, and offer tailored solutions, which create significant added value to the customer. For us every supreme product and every link in our customers' supply chain is a passion that guides everything we do."
Solutions delivered
VariProd - Production Configurator and VariPDM - Product Data Management system to automate order handling to manufacturing and IFS ERP.
Main benefits from the solution:
Effective automated order-to-manufacture process
Error-free manufacturing
"We have used sometimes Variantum's help when we develop new customer product families, but mainly we have managed our product models and changes ourselves. Sometimes complex configuration model development is not easy, especially if you don't have the experience.Variantum has delivered us business benefits through flexible and error-free production. We can now master complex parametric production structures cost-efficiently.Our message to other companies is that configuration model development certainly takes time, but the investment is really worth it! With Variantum, we succeeded to change our order-to-manufacturing process from days to hours."
Get notified on new Offering Management insights from Variantum!
Be the first to know about the latest news to build or reimagine your service or product offering with the knowledge of today's Offering Management capabilities!
Subscribe our newsletter by filling in your basic contact information here: (we'll not spam you on weekly basis!)