CUSTOMER SUCCESS WITH CHILLER
VariSuite as the business critical core of product lifecycle management
A true end-to-end VariSuite implementation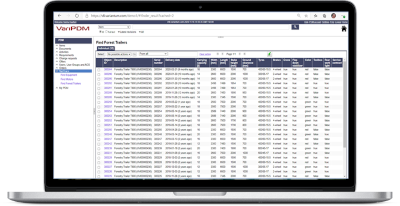 About Chiller
Chiller Oy designs and manufactures advanced-technology solutions for heating, cooling, and energy applications. Chiller systems are widely used in both new buildings and renovation projects that present strict requirements for indoor air quality and technical solutions in terms of sound levels, energy consumption and maintenance.
A Competent Business Model
Chiller Oy is not your typical manufacturer of heating, cooling and energy solutions. Their business model focuses on configure-to-order and not build-to-stock. As a result, they have engineered their products and the processes that support them to be highly configurable.
Sales Efficiency
Variantum's solutions provide direct support for Chiller business model and are used to support the full digitalization of their sales and delivery process. In support of sales, Chiller Oy uses VariSuite to manage the selection of product families, product configurations, fixed products and additional services, generation of sales documentation, and the management of offers.
Streamlined Production & Maintenance
On the production side, VariProd is used to automatically create production configurations, generate production documentation, and the management of test results associated to specific product builds. And finally, in the area of aftersales support, VariSuite is used to manage up-to-date product documentation based on any update and/or changes applied to the specific product installation.
An end-to-end Solution
Variantum solutions are at the core of Chiller product lifecycle management. To date, Chiller has implemented an end-to-end VariSuite solution. They have also integrated VariPDM to their mechanical CAD system and their ERP.
"The Variantum system is the business critical core of Chiller's product life cycle management, creating a digital thread of information between product development, sales, production and maintenance.The end-to-end management of product information creates a digital twin of installed customer systems, establishing the foundation for successful customer services. Variantum's technology for managing configurable products has enabled Chiller to become a leading manufacturer of innovative and tailored cooling, heating and energy solutions. We are very satisfied with Variantum as a strategic technology partner."
Get notified on new Offering Management insights from Variantum!
Be the first to know about the latest news to build or reimagine your service or product offering with the knowledge of today's Offering Management capabilities!
Subscribe our newsletter by filling in your basic contact information here: (we'll not spam you on weekly basis!)