VariSuite
How to increase sales?
Salespeople want to serve their customers better, but also use less time per offer and quote handling. Guided selling can save time in quoting process.
---
Nowadays customers want their products faster than before. Salespeople would like to serve their customers better, but also use less time per offer and quote handling. Company management demands higher quality in offers, flexible and competitive pricing and salespeople to follow product option guidelines. Sales management would like to observe better what's happening in the reseller field.
All these needs can be solved with one solution: VariSuite – an offering management system.
Save time with guided selling
Modern sales configurators and quote tools (CPQ) can save time and make the sales and offering process faster especially for configurable products. VariSuite's sales software can quicken the quoting process and customer feature selections. The salespeople do not need to know all details about the products they are selling: VariSuite guides new salespeople with product feature dependencies.
Help salesperson's routine tasks
VariSuite can help salesperson's daily work by decreasing repeated tasks and manual work and by fulfilling the customer's needs with company's product. VariSuite speeds up the offer letter creation and offer iteration with the customer. It enables making the compatible choices in the configuration phase, updates the price according to selections and visualizes the product.
Analyze, re-use and automate order to production
It is also easy to reuse the previous offers with customer parameters to update the current product version and the latest prices. If the company has maintenance or service business, the delivered product individual detailed information can be found in VariSuite. Offer can be converted to order automatically to create the customer specific product into ERP.
Master the sales model, product and pricing yourself
In VariSuite product, price, user interface and all configurable product dependencies are modeled as no-code information into database. This means that the companies can manage product and pricing rules themselves.
Follow complex product rules
VariSuite can master the complexity of sellable products or solutions with even challenging product and pricing rules, together with product releases throughout the product lifecycle. The sales model should be built on the technical product model.

The quality of work will improve, the offer volume will increase!
When a salesperson makes an offer using VariSuite, he or she follows a predefined bidding process; the vendor sells and configures only the kind of products that can be manufactured. VariSuite makes selling fast, easy, and error-free. A smooth sales process helps to make the right kind of offer swiftly, and this also leads to a satisfied customer.
Case Elematic
Elematic chose Variantum's solution to be able to increase the number of offers sent out by decreasing the processing time and working effort per offer creation and price quoting. Sales configurator and quoting tool helps eliminating errors from the offers and customers will get the offer content they need and requested.
You can read more about the case and watch a video here: case Elematic
Elematic provides precast concrete producers with technology, production lines, products and services. Elematic is the global technology and market leader in precast concrete technology for residential and non-residential buildings.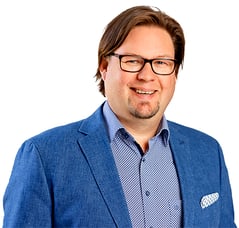 Teemu Kaattari
Head of Products